Amateur Radio in Stratford upon Avon and Shakespeare Country
Welcome to
Stratford-upon-Avon
& District Amateur Radio Society.
Callsign GX0SOA


With support from Stratford Town Trust
---
SDRS is a club for radio amateurs (aka radio hams) and all those interested in radio communications or radio related technology, electronics, etc.
The society usually meets on the 2nd & 4th Mondays of the month with a break during January and August. Doors open at 1930 (local time) for 2000 hrs start
Activities include talks, visits, activity evenings and putting on special event (demonstration) stations often using the club callsign of GX0SOA (or G0SOA).

Become an radio amateur with just a weekend or two's study (no morse required!). SDRS are not currently offering study (possibly in future) but other local clubs may be, RSGB training course finder .
Click here for a link to the RSGB information page about licensing and to the UK Government's Office of Communication, OFCOM's amateur info. web pages . Free online foundation training
Useful or interesting radio related links.
News
Society's new home = Foundation House, Masons Road, Stratford-upon-Avon, CV37 9NF
Beware not all satnavs bring you to the door using the postcode, see location map link below.
Note; entrance has to be kept locked in the evenings so call on soc. net freq of 145.275Mhz, ring 'our' doorbell or knock on window to left of entrance.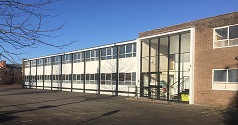 Click image to enlarge
9th January 2018 - Edge Hill repeater, GB3EH, changed frequency and is now wide split (7.6Mhz shift). The channel is RU77 =430.9625 Mhz (RX) ,+7.6 Mhz shift (TX= 438.5625 Mhz).
Access is by CTCSS tone 67Hz ('A') as previously but 1750Hz tone-burst is no longer supported.
GB3EH webpage .
RSGB Repeater.net webpage .
<![if !supportLineBreakNewLine]>
<![endif]>
Monday's other than meeting night – society net on air,# = 145.275MHz ±QRM - 2000 local time.

2018

Jan

22nd

Post Festivities Meal

Feb

12th

Welcome to new society HQ

Click image to enlarge

Feb

26h

100 years of Maritime Comms – John, G1AWJ

March

12th

LF – Dave, G3YXM – RadCom LF Columnist

March

26th

Latest in datacomms – Harri, G1EIX

April

9th

Glos/Warks railway – Keith, G8FRS

April

23rd

Thermal Imaging Camera Demo – Clive, G0CHO (note: this is a change of programme)

Click image to enlarge

May

14th

AGM

May

28th

No meeting – Bank Holiday

June

11th

Experimental 80m antenna - Ron, 2E0EKW

June

25th

SDR kit build, part 2 - Quentin, M0OAE

July

9th

Experiences at 2018 Friedrichshafen Radio Exhibition – Keith, G3TTC. 

To be followed by society antenna tuning demo in shack by Harri, G1EIX.

July

23rd

Construction Competition

Aug

6th

Committee meeting

Aug recess

---

----------------------------------

Sept

10th

Session Opening Meeting and Shack Update

Sept

24th

Raynet

 – Clive, G0CHO

Oct

8th

Quality of Kits – Ron, 2E0EKW

Oct

22nd

Application of SDRPlay RSP2 as a receiver and panadapter. & high end fed antenna - Quentin, M0OAE
# indicates that the meeting/event may not be held at Foundation House.
Pages created by Clive Ousbey, G0CHO
Email =
Last updated on 19/07/2018